Over £1500 Raised For Lauren's Legacy in First Half of 2020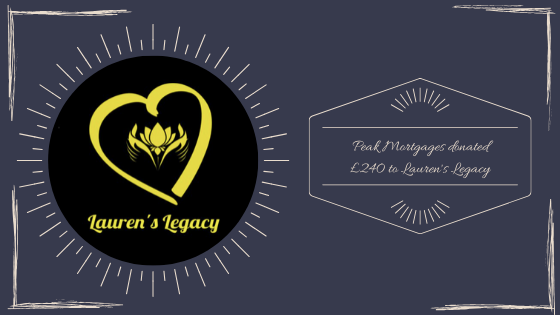 There has been little to get excited about so far in 2020, but as we pass the halfway point, Peak Mortgages & Protection have some uplifting news to report. Our total amount raised for the fantastic Lauren's Legacy charity has topped £1500 over the first 6 months of the year! 
We reported last month on our £240 raised in May, and in June we beat this again with £320 raised, a new monthly record for us. This brought the overall total to over £1500 which we are all extremely proud of and happy to see going to a great cause.
Why Lauren's Legacy?
As a local business, we believe that it's really important that we give something back to our community. So at the start of the year we put it to a public vote to decide which charity we would try and fundraise for. Belper resoundingly chose Lauren's Legacy. 
Lauren's Legacy is a charity formed in 2014 in honour of Lauren, an extraordinary daughter, sister, godmother and young lady. Lauren was diagnosed with a treatable, but not curable Sarcoma in September 2014. This started a five-year battle with this dreadful disease, during which Lauren never complained or let it get her down. Instead she took her family and friends on a wild roller coaster of a ride for the next 5 years, until Lauren sadly passed away on June 26th 2019.
Intent to carry on Lauren's memory and her desire to help others, family and friends have formed Lauren's Legacy. A charity formed to directly help teenagers and young adults going through cancer treatments by granting wishes. This may involve a family holiday, concert tickets to see their favourite band, sports events or a simple iPad. All monies raised go directly towards the teenagers and their families. 
You can learn more about Lauren's Legacy and donate on their website here.
We're only halfway there 
We will continue to donate to Lauren's Legacy each month and we are excited to see what the total amount raised will be at the end of the year. Follow the progress here on our blog and on our Facebook page. 
Rhys Schofield, owner of Peak Mortgages and nominee for the British Mortgage Awards 2020 has said that it is "Genuinely an honour to be in the position to give back to our community each month and we couldn't do it without our clients and army of people out there supporting us".