Peak Mortgages and Protection donated £240 for Laurens Legacy Last Month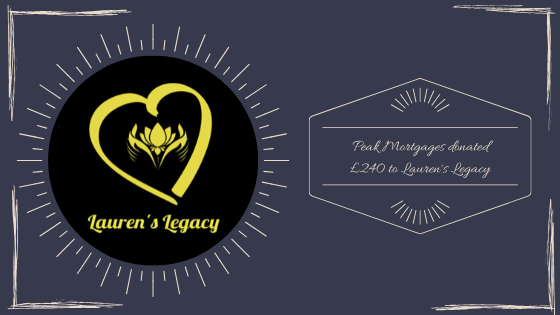 Peak Mortgages and Protection are proud to announce they have been able to donate a whopping £240 to the Charity Lauren's Legacy last month, as part of their initiative to give back to the local community.
Rhys Schofield, owner of Peak Mortgages and nominee for the British Mortgage Awards 2020 has said that it is "Genuinely an honour to be in the position to give back to our community each month and we couldn't do it without our clients and army of people out there supporting us".
What is Lauren's Legacy?
Lauren's Legacy is a charity formed in 2014 in honour of Lauren, an extraordinary daughter, sister, godmother and young lady. Lauren was diagnosed with a treatable, but not curable Sarcoma in September 2014. This started a five-year battle with this dreadful disease, during which Lauren never complained or let it get her down. Instead she took her family and friends on a wild roller coaster of a ride for the next 5 years, until Lauren sadly passed away on June 26th 2019.
Intent to carry on Lauren's memory and her desire to help others, family and friends have formed Lauren's Legacy. A charity formed to directly help teenagers and young adults going through cancer treatments by granting wishes. This may involve a family holiday, concert tickets to see their favourite band, sports events or a simple iPad. All monies raised go directly towards the teenagers and their families. There are no wages, employees or admin costs associated with Lauren's Legacy.
On a monthly basis, Peak Mortgages are able to donate money to charities to help the local community and Lauren's Legacy is a foundation close to their heart. They will be continuing with their regular donations, so to keep up to date with the latest news, be sure to follow them on Facebook.